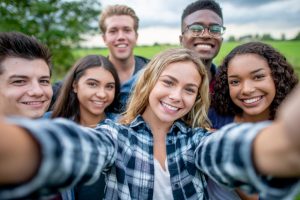 The teachers in our schools who take on the fun and rewarding challenge of helping ELL students become proficient in English are an invaluable part of our public education system, helping non-native English speaking students adapt and feel more comfortable in the American communities they're becoming part of. To a huge extent, that's what learning the language is all about. Of course, it's a fundamental part of being able to be successful in academics, but it's just as important when it comes to navigating the social aspect of school, and life, and to developing the kind of well-adjusted and healthy social life that every kid deserves to have.
ESL teachers set students up for success throughout their lives as they help them prepare to not just learn but learn in a language and culture that is largely foreign to them.
<!- mfunc feat_school ->
<!- /mfunc feat_school ->
<!- mfunc search_btn -> <!- /mfunc search_btn ->
It's a truly exciting and rewarding career path for those who want to use their proficiency in a foreign language to help students of all ages realize the American dream. And thanks to our beautifully diverse nation, the number of ELLs continues to rise, along with professional opportunities and earning potential for dedicated ESL teachers.
Find ESL Teacher Salary Info By State
A Growing Number of English Language Learners are Driving Demand for ESL Teachers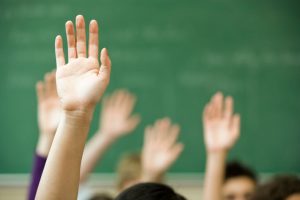 ELLs are the swiftest-growing group of students in our nation's schools. With more than 5 million students as of 2017, according to the National Center for Education Statistics (NCES), this population comprises about 10% of the entire student body in U.S. K-12 classrooms. They bring with them over 400 languages (although most are Spanish-speaking) and a rich, cultural diversity to our schools and our communities.
If you want to know where the opportunities for ESL teachers are, simply follow state ELL demographics:
The majority of ESL teachers can be found in the western part of the United States.
While ELLs account for about 10% of the student body across the U.S., in many areas of the country, this percentage is much higher. In California, ELLs reached 19.2% of the total student population as of 2017, followed closely by Texas, at 18%, and Nevada at 17.1%. In fall 2017, no less than 40 states and Washington D.C. posted higher numbers of ELLs than they did in fall 2010.
The National Center for Education Statistics reports that the largest number of ELLs are found in the following states, most of which are located in the West:
Washington D.C.
Alaska
California
Colorado
Florida
Illinois
Kansas
Nevada
New Mexico
Texas
Washington
Most ESL teachers teach at the elementary level.
According to Pew Research, about 67% of all ELL students are in grades K-5. The remaining students – 33% – are in grades 6-12. It's clear that younger students more often require the help of ESL teachers due to their limited English language proficiency, while older students tend to have developed enough English language skills to be reclassified as English-proficient.
<!- mfunc search_btn -> <!- /mfunc search_btn ->
For example, according to the NCES, as of 2017, 15.9% of students in kindergarten were ELLs, compared with 8.6% of students in sixth grade, 7% in eighth grade, and just 4.6% in twelfth grade.
Most ESL teachers teach in urban areas.
School districts with higher numbers of ELLs are usually those in urban areas. According to Pew Research, ELL students made up about 14.7% of the school population in urban areas, compared to 9.6% in suburban areas and just 4.1% in rural areas.
The vast majority of ESL teachers teach Spanish-speaking children.
Of the approximately 5 million ELL public school students in 2017, about 3.7 million—74%—identified Spanish as their home language, followed by Arabic and Chinese.
State and Licensure-Level Guide to What ESL Teachers are Earning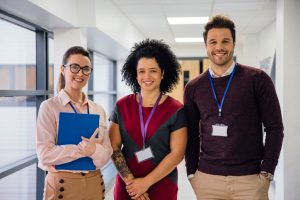 Depending on their state board of education, ESL teachers in the U.S. may earn either an initial ESL teaching license or an ESL certification/add-on endorsement for their existing elementary or secondary-level teaching license.
The type of license/endorsement you'll earn will be largely dependent on your initial teaching license (if any) and the state in which you live, while your salary will be largely dependent upon your education (bachelor's vs. master's), your experience, and whether you're teaching in public or private school.
According to May 2019 statistics from the Bureau of Labor Statistics (BLS), teachers earned salaries in the following ranges (50th-90th percentile), according to grade level:
Elementary school teachers: $59,670 – $97,900
Middle school teachers: $59,660 – $96,280
High school teachers: $61,660 – $99,660
The BLS also highlighted the top-paying states in the nation according to average salary:
Elementary school teachers:

New York: $82,830
California: $82,560
Massachusetts: $82,450
Washington D.C.: $79,390
Connecticut: $78,070

Middle school teachers:

New York: $87,050
Alaska: $80,730
Massachusetts: $80,520
California: $80,160
Connecticut: $79,510

High school teachers:

New York: $87,240
California: $85,080
Massachusetts: $81,070
Connecticut: $78,540
New Jersey: $78,090
Your salary as an ESL teacher will vary quite a bit based on where you live. Salaries among teachers can and do differ widely from one state to the next and even from one community to the next, largely due to cost of living differences. So, while teacher salaries in states like California, Connecticut, and New York are much higher than they are in other parts of the country, when you take cost of living into consideration – including everything from income tax to the cost of a house to the cost of a gallon of gas – these salaries aren't as high as they might first appear.
CNNMoney's Cost Of Living Calculator is a great tool to use to determine how far your dollar will go based on where you live. For example, an annual salary of $50,000 in Atlanta, GA, is the equivalent to $72,000 in Los Angeles, CA, and a salary of $60,000 in Boise, ID, is the same as earning $110,000 in Brooklyn, NY.
How ESL Teacher Salaries Range According to the Degrees They Hold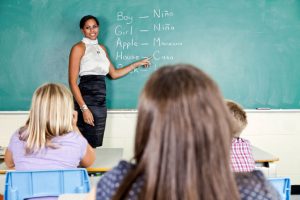 You'll earn more as an ESL teacher based on your years of teaching experience, but your degree level can also affect your earning potential. Like any other teaching position, your salary will vary according your degree level.
For example, an ESOL and world language district support teacher in the Atlanta public schools with three years of experience and a bachelor's degree earns a salary of $49,539. However, if that teacher holds a master's degree, the annual salary increases to $57,579, and then to $63,345 with a doctorate.
<!- mfunc search_btn -> <!- /mfunc search_btn ->
Similarly, a teacher working as an ESL teacher in the Broward County Public School District's bilingual/ESOL department, which has both sheltered/self-contained and mainstream/inclusion rooms for ELLs, earns an annual salary of $41,742 with three years of experience and a bachelor's degree. But with a master's degree, this salary increases to $45,392, and $49,742 with a doctorate degree.
Teaching English to ELL Students Can Come with Exciting Stipends and Signing Bonuses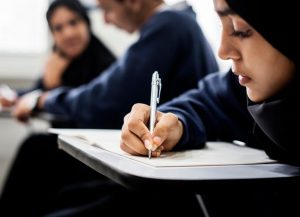 As the number of ELLs continues to increase, so does the demand for ESL teachers, and in some school districts, having a teaching certificate or endorsement in ESL will earn you a bump in pay, a signing bonus, or both.
For example, Davis School District (Davis County, Layton, UT) hires teachers with no experience and a bachelor's degree at $40,684. Those with master's degrees are hired at $45,059, and those with doctorates are hired at $48,559. But if you have an ESL endorsement—considered "critical to the functioning of the district," you'll earn $41,559 with a bachelor's degree, $45,934 with a master's degree, and $49,434 with a doctorate.
It's a similar story for ESL teachers in the Dublin Independent School District (Dublin, TX). New ESL hires here earn $6,000 signing bonus because it is considered an "acute shortage teaching field."
Salary and employment data compiled by the United States Department of Labor's Bureau of Labor Statistics in May of 2019. Figures represent accumulated data for all employment sectors in which elementary school teachers, middle school teachers, and secondary school teachers work. BLS salary data represents average and median earnings for the occupations listed and includes workers at all levels of education and experience. This data does not represent starting salaries. 
All salary and employment data accessed October 2020.
<!- mfunc feat_school ->
<!- /mfunc feat_school ->